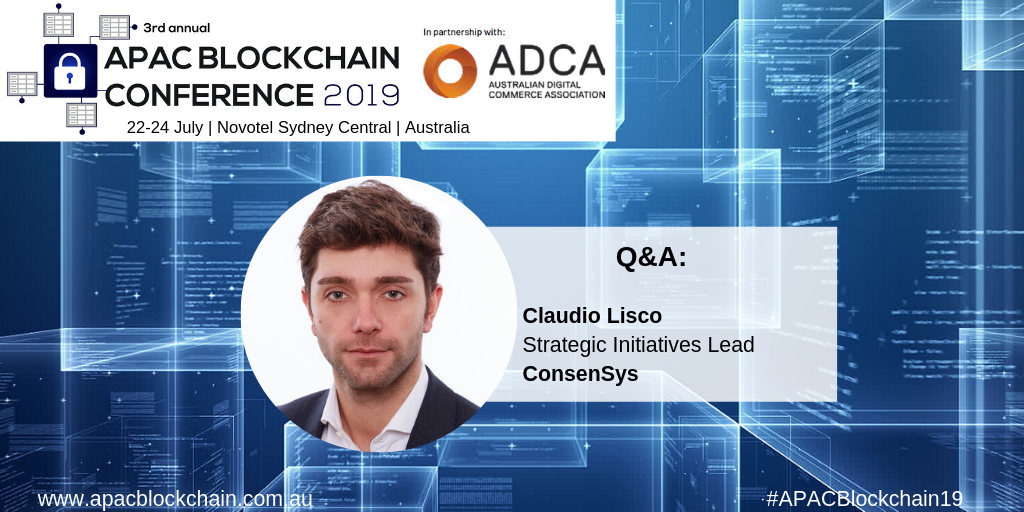 We caught up with Claudio Lisco from ConsenSys and a 2017  Forbes 30 Under 30, to talk all things Blockchain, enterprise applications, emerging technologies, Quantum Computing and more.
You can catch Claudio at APAC Blockchain, 22-24 July at the Novotel Sydney Central. To register, click here.
1. For background to our readers, would you be able to provide us with a brief overview of your work in the Blockchain space?
I lead the development of strategic initiatives and corporate ventures in Asia Pacific for ConsenSys, the world's leading and largest pure-play Blockchain tech and Ethereum venture production studio. I joined ConsenSys two years ago as one of the first employees in Asia Pacific and helped establish the company in the region and grow our operations and team.
Over the past two years I've led a number of projects at ConsenSys, spanning a wide range of use cases across financial services, digital identity, supply chain and social impact. The most notable is certainly Project i2i, ConsenSys' collaboration with UnionBank to establish an Ethereum-based payment platform for rural banks in the Philippines and drive financial inclusion in the more remote areas of the country.
Prior to ConsenSys, I played a key role in establishing and developing UBS's research initiatives and proof-of-concepts on Blockchain technology working as part of the bank's Crypto 2.0 Lab in London for two years, for which Forbes magazine recognised me as part of their "Forbes 30 Under 30 Europe 2017" list.
2. What are some of the key strengths and weaknesses of Blockchain technology in an enterprise context?
Leveraging the decentralised trust and disintermediation principles inherent to public Blockchains such as Bitcoin and Ethereum, we can appreciate the potential for Blockchain technology to provide a more efficient, resilient and secure "trust" infrastructure for enterprises to transact, collaborate and integrate and re-intermediate their businesses.
Platforms like Ethereum in particular, can take advantage of the endless possibilities offered by "smart" programmable assets and contracts to reengineer traditional business processes and transactions, while also leveraging the synergies between private and public chains for additional security, resiliency and finality.
The benefits of this profound technological and business transformation are becoming apparent for certain industries and business functions, such as financial services, global trade and supply chain, and public services.
However enterprises and organisations willing to embrace Blockchain technology need to look at this not only as an IT upgrade. To realise the full benefits of Blockchain, they need to be ready to transform their business and operating models, adopting more collaborative and open systems, as well as committing resources and efforts.
Otherwise, half-hearted Blockchain implementations may not be suitable for some use cases and in many instances, result in less efficiency than a conventional centralised system.
3. Based on your experience, what do enterprise innovation leaders need to do to get buy in to start a Blockchain pilot?
Stakeholder engagement is key, as in any innovation and transformation project. Just because a new project implements Blockchain technology, it doesn't mean that enterprises and organisations can forego the business and operational complexity that surrounds any technological implementation.
Enterprises still must ensure all stakeholders are engaged to properly evaluate and design the projects through the business, operational, technical, financial and legal lenses.
This said, enterprises and organisations shouldn't be afraid by the initial complexity associated with Blockchain projects. Enterprise frameworks, services and products are emerging to address this complexity, reducing the time from concept to commercial launch to less than a year. At ConsenSys we have done this successfully in many instances, with projects like
Project i2i: a national financial inclusion platform connecting hundreds of rural community banks in the Philippines and lowering remittance costs;
komgo: a platform founded by global banks, commodity and trading companies such as Citigroup, ING and Shell, to digitalise the traditionally paper-based commodity trade financing industry and saving time and costs;
1exchange: supported by the Singapore Exchange, this is the world's first regulated private securities exchange on the public Ethereum Blockchain, connecting investors and businesses to fill a gap in the global capital and private equity market.
Also because this is such a new field, sometimes the environmental / external factors such as relevant regulatory guidelines are not in place or updated. Leaders need to recognise that this can also be an opportunity, to engage lawmakers/ecosystem members, to move the industry forward in a collaborative manner.
4. What impact do you think crypto markets have on the perception of Blockchain in an enterprise context?
Cryptocurrency has been often conflated with Blockchain, and the enthusiasm around the first has certainly helped introduce Blockchain and decentralised systems to many people, including business and public leaders.
The technology and ecosystem however, are significantly maturing in the enterprise space, organically distancing itself from cryptocurrency trends and speculation, and allowing enterprises to focus on its applications.
So it is for enterprises to continue to showcase good work and continue to educate the public and industry on what can be made possible with Blockchain, with impactful work such as Project i2i, komgo, and Project Unblocked Cash - a recent Blockchain-based Cash Transfer Program we worked on with global humanitarian NGO Oxfam for disaster preparedness.
5. What are your views on how Government regulators, can effectively regulate Blockchain solutions being used across industries and perhaps by competitors?
It is important not to perceive or think of government regulations as restrictive. Government bodies are doing an important job by steering and guiding the ecosystem development, with the common aim of bettering economies and lives.
For both 1exchange and Project i2i, we worked closely with the respective Singapore and Philippines regulators to understand their perspectives and learn about potential concerns that we might have otherwise not realised. Both projects have since received the relevant authorities' support and are successful examples of industry and government working together to create win-win outcomes.
Here in Australia many government entities such as the Reserve Bank of Australia and the Digital Transformation Agency are proactively engaging in the exploration of Blockchain technology across the Australian ecosystem. This is a very encouraging sign and a clear signal that the government understands that technology innovation is a key thrust in building competitiveness and creating opportunities.
6. What are your thoughts on the opportunities created by the interplay of technologies? Ie. What can be done with Blockchain and AI, IoT or other emerging tech?
Some of these cutting-edge technologies will evolve side-by-side and hand-in-hand. We can think of these various technologies as different facets of how society can evolve. For example IoT and Blockchain are already being used together in a number of supply-chain related projects, where IoT devices can be used to automatically log product data into a blockchain ledger.
ConsenSys experimented with this in 2017, through our "Bait-to-Plate" pilot in partnership with WWF Australia , where small IoT sensors were placed on fish caught in the Pacific to facilitate tracking of its supply chain journey though our Treum solution. And this is just the beginning, we are on the cusp of a new technological era that will see all these emerging technologies interoperate in the coming decades with great benefits for people and businesses.
7. What risks are posed by Quantum computing on enterprise Blockchain solutions? What can you suggest to manage these risks?
The development of quantum computing poses interesting questions, including its possible impact on Blockchain, as to whether this new technology could theoretically "break" cryptographic security.
It's worth noting that quantum computing represents both opportunities and challenges for the entire tech industry. For instance from how semiconductors can be designed in new complex ways, to future-proofing systems that, in general, rely heavily on cryptography, such as secure web banking and government systems. All enterprises and organisations should always be aware and have a healthy level of concern when it comes to security.
Ethereum currently uses what is known as elliptic curve cryptography, which is not quantum-resistant. That being said,, it is important to bear in mind that it is incredibly hard to deploy the necessary quantum computing power to "break" the current state of Blockchain cryptography.
The upcoming Serenity protocol upgrade for Ethereum will enable choice of quantum-proof algorithms such as Lamport signatures, so we are definitely always planning ahead. These developments, like custom cryptography, give the Ethereum platform improved security against quantum computing and possible future threats. It is possible that when quantum computing has become mature enough to feasibly match the existing state of cryptography, the state of security for the tech industry at large would already have advanced to be sufficiently quantum-proof.
8. Where do you see Blockchain and its impact on world economies in 5 years?
The arrival of Blockchain, so to speak, is not in one single shape or form, or a single point in time. It will be incorporated into lives gradually, as enterprises across different business sectors find the optimal way to deliver new value. To the consumers, it doesn't actually matter whether a product is Blockchain-enabled or not; what is important to them is that the product works and adds value.
This said, we are particularly excited by the potential of Blockchain to drive new impactful projects that can support the wellbeing and financial inclusions of billions of people around the world. We have been working on a number of projects that can live up to these promises, such as i2i in the Philippines, Unblocked Cash with Oxfam in Vanuatu, and there are many others in the Ethereum ecosystem that can have profound social implications and realise a more inclusive and sustainable future.
---
The 3rd annual APAC Blockchain Conference, Australia's leading Blockchain event, developed in partnership with the Australian Digital Commerce Association (ADCA), will bring together the most forward thinking enterprises, innovative start-ups, and regulatory leaders from throughout the region. It's the not-to-be-missed event in 2019.