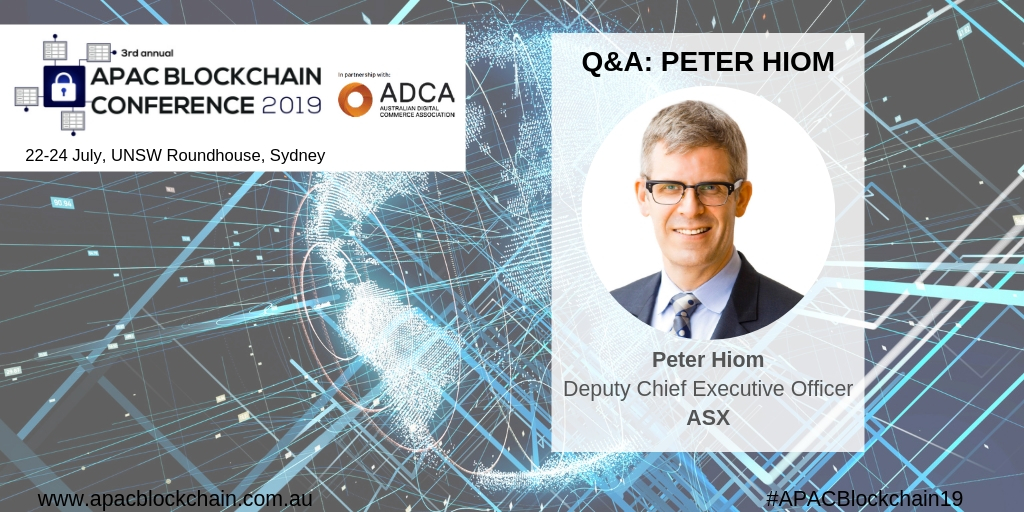 The ASX is in the midst of one of the most publicised and largest Blockchain projects in the world, using decentralised ledger technology to replace an ageing 'CHESS' system.
Many organisations are looking to this project as a key indicator of Blockchain's ability to make a meaningful impact at an enterprise level.
In the lead up to the APAC Blockchain conference, we caught up with Peter Hiom, Deputy CEO of the ASX and a keynote speaker at the conference to get a greater insight in the project progress to date.
the background of the project
key challenges DLT will address
the advantages and disadvantages compared to CHESS
initial challenges and how they were overcome
benefits the ASX and its customers can expect from Blockchain
steps taken to ensure data integrity
1. For background to our readers, would you be able to provide us with a brief overview of ASX's Blockchain project?
ASX has a long and proud history of innovation. Whether it's closing trading floors and embracing electronic trading, removing the need for paper-based share certificates with CHESS, demutualising and self-listing, or merging equities and futures exchanges
ASX's Blockchain story really starts in 2015 when we began considering the replacement of CHESS – ASX's system which performs the processes of clearing, settlement, asset registration, and some other post-trade services which are vital to the orderly functioning of Australia's equity market. CHESS was developed by ASX over 25 years ago and while it continues to be stable and perform well, it is not a platform for the 2020s and beyond. CHESS has to be replaced.
As a critical piece of market infrastructure that connects a large number of market users to one another, replacing CHESS is something we only do once every 20 – 30 years, so we wanted to be sure that we considered all the available options.  This included distributed ledger technology (DLT), also referred to as Blockchain.
2. What were the triggers that influenced the ASX to take the leap and adopt the technology?
To date, we've spent nearly four years understanding the detailed workings of DLT and what is (and isn't) applicable to financial markets.
Through a multi-year process of prototyping and testing we have come to realise that DLT may be able to help address a number of significant challenges that our customers are facing: competition driven by technology, increased....
---
To acces the full article please fill in the form below. You will also receive an email with a URL link to access the article again in future if required or to forward to a friend or colleague.
If you have any questions please contact us on info@questevents.com.au or +61 (0)2 9977 0565.